Marshall Testing Machines
Cantrol designs and manufactures two types of Marshall Testing Machines and CBR-Marshall Testing Machines. The machines are bench mounted, compression frame are manufactured with sturdy and compact two-Stainless Steel-column frames and adjustable upper cross beam. The frame capacity is 50kN equipped with 50kN loadcell with 20N resolution. Speed of loading is 50mm/min (2 inch/min) in all models and Marshall stability breaking head should be ordered separately.
---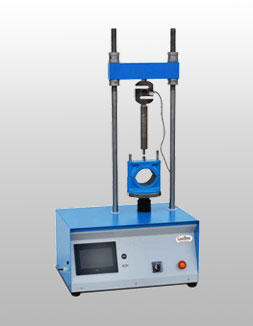 Digital Marshall Testing Machine:
The load of test is measured by 50kN (10N) S. Steel load cell. The flow is measured by 10mm Div. 0.01mm dial gauge
---
Automatic Marshall Testing Machine:
This machine comprise 50kN (10N) S. Steel load cell and displacement sensor (LVDT) by 0.01mm accuracy.After starting test for loading, all data such as load and displacement will be shown on display at real time and can be transfer to PC in an Excel file. At failure point, loading platen and breaking head will return to the initial position automatically.
---
Technical Specifications:
• 4" touchscreen LCD in Digital Marshall testing machines
• 7" touchscreen LCD in Automatic Marshall testing machines
• Gearmotor with uniform loading stepper 50.8mm/min
• 50 kN load cell with 20 N resolution
• Digital displacement sensor with accuracy 0.01mm in Automatic Marshall testing machines
• Online flow-Stress and Displacement graph time in Automatic Marshall testing machines
• Online Displacement – time graph in Digital Marshall testing machines
• Maximum and real time force indicator
• PLC control system
• Automatic overload detection
• 50 kN load cell with 20 N resolution
• Calibration software
• Limit switch with 50mm stroke
• Automatic Stop at failure point
• Ability to save up to 500 test data in internal
• memory and USB
• User-friendly software available in English, Spanish and Portuguese